PRODUCTIONS
Our Next Show:
We will perform "Iolanthe" from 18th to 20th September 2019, at 7.30pm.
Following their outstanding success of 'Guys and Dolls' in April, one of South Wales' most dynamic and versatile theatre companies, Monmouth Music Theatre, turns its artistic and creative talents to their new show, 'Iolanthe'.
Set in Victorian England, this hilarious comic opera - considered to be way ahead of its time - stunned the sensibilities of unsuspecting audiences at the time. The masterful combination of fantastical fairies and pompous peers in an outrageously satirical romp that would make even today's politicians blush with embarrassment, will draw you in to the mad maze of parliamentary intrigue. The plot has almost every political twist and turn crafted to distinction by the ultimate masters of musical comedy, Gilbert and Sullivan.
Featuring many of the magnificent cast from 'Guys and Dolls', plus some exciting new performers, the production will be directed by the superbly creative Kate Russell. Joining forces with the artists and chorus on stage will be a professional orchestra under the direction of Monmouth Music Theatre's Music Director, Ian Russell.
All this will take place at Monmouth's jewel in the crown, the wonderfully atmospheric Savoy Theatre. So sit back, relax, and immerse yourself in the truly hilarious and riveting comic experience.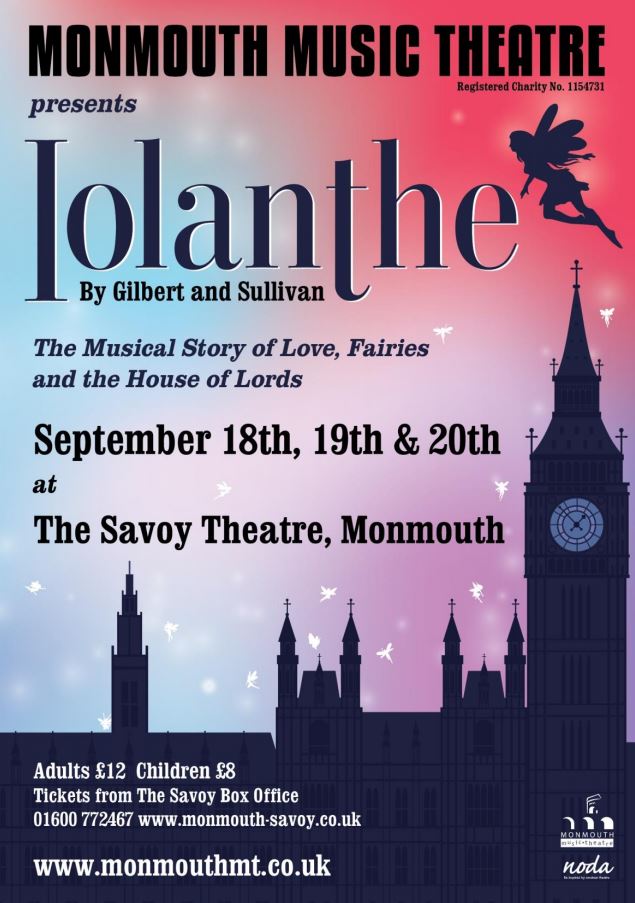 Click on the images below to view photos and posters from our previous productions...
Full List of Past Productions:
2019: Guys & Dolls |
2018: Sister Act | HMS Pinafore
2017: Hello, Dolly!
2016: The Wizard of Oz | The Mikado
2015: Kiss Me, Kate | Pirates of Penzance
2014: Oliver! | When Worlds Collide
2013: Anything Goes | It's a Musical World
2012: Me & My Girl | Trial By Jury (The Untold Story)
2011: Patience | Lady Dingestow's Diamonds
2010: My Fair Lady | Raise the Roof
2009: Pirates of Penzance
2008: The Mikado | The Zoo
2007: Annie Get Your Gun | Trial By Jury
2006: Oklahoma | Even Educated Fleas Do It
2005: HMS Pinafore
2004: Calamity Jane
2003: The Geisha | S'Wonderful - Let's Do It
2002: Countess Maritza | Fiddler on the Roof
2001: Ruddigore | A Night at the Movies
2000: Yeoman of the Guard | Magic of the Musicals 2
1999: La Belle Helene | Magic of the Musicals 1
1998: The Grand Duke | Here's A How De Do
1997: Trial By Jury | The Merry Widow
1996: Princess Ida | Golden Age of Operatta
1995: Die Fledermaus
1994: Pirates of Penzance
1993: Iolanthe
1992: The Sorcerer
1991: Patience
1990: The Gondoliers
1989: The Mikado | Trial By Jury
1988: HMS Pinafore